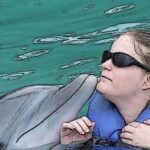 Award-winning author Feather Chelle is a single mother living in Texas with her children and two grandpuppies, who are the center of her universe. She is totally blind due to a battle with Retinoblastoma, a cancer that both of her daughters also survived. As a result, part of the proceeds from her books go to several charities that aid families of children with terminal illnesses (see below).
Chelle is a proud Scout leader and enjoys homeschooling with her family. With a passion for educational event planning, she has organized several clubs, activities, and events for large and small homeschooling/unschooling communities. Reading, writing, cooking, traveling, learning, beading, event planning, singing, and playing with children are just a few of her interests. 
Her first trip to Galveston, Texas, at the age of five began a lifelong love of and respect for the sea and all its inhabitants. Since then, Chelle has devoured every article, book, and documentary about marine life, and her first published book showcases just a few of these magnificent creatures.
She loves to teach and has been writing since the first grade, starting out on her grandma's old typewriter. However, her first book was not published until the end of 2020. The pandemic forced her to slow down on many activities, and she decided to use some of her newly discovered spare time to focus on publishing several books that she had written throughout the years. To date, she has managed to publish eight books, and there are dozens more in various stages of production. 
Her goal is to create fun and engaging books that portray an array of diverse characters who just happen to be undercover educators. Feather is the recipient of the Book Excellence, Pinnacle Achievement, Story Monsters, and the Mom's Choice awards and was a finalist in the Wishing Shelf and American Book Fest contests.